REVOLUTION ETERNAL

PAINTING THE TOWN
#guerilla performance


I re-edited the 1939 Hollywood classic Ninochka in an act of reverse propaganda. The film stars Greta Garbo as a communist envoy who falls in love with an American in Paris and abandons her politics. I decided to reverse the story to preserve her revolutionary spirit.


SCREENINGS

Freewaves 'Out The Window' Project
Los Angeles City Busses, LA, CA
Staging Los Angeles: Reality, Fantasy, and the Space Between, Roski MFA Gallery, Los Angeles, CA
LIFE TRANSMISSIONS, Guggenheim Gallery, Orange, CA
Feminist Festival of Media Arts + Digital Culture, Montreal, Canada
Immaginare/Assentarsi, Palermo, Italy
CologneOFF, Cologne International Videoart Festival, Cologne, Germany
Ludere, Life and Environment, São Paulo, Brazil
Side Street Projects, ArtNight Pasadena, Pasadena, CA

TEENAGE MUTINY UWS


#hybrid documentary
"Teenage Mutiny UWS" is a story of rebellion centered around The Lucerne, a luxury hotel in New York City turned temporary homeless shelter during the Covid-19 pandemic. Over the course of several months, the Lucerne became a symbolic battleground, dividing a historically liberal, wealthy neighborhood and holding press attention.

"Teenage Mutiny UWS" documents neighborhood activism and local media spin from the perspective of a fictional "tiktok teen" @trustfundkiddy. As the events unfold, @trustfundkiddy is galvanized to break an intergenerational cycle of disenfranchisement through an absurd tribute to Patty Hearst.
CHILDREN OF THE
SINGULARITY
documentary




Children of the Singularity is a short documentary series that invites young people to push back against any singular story of "progress." With a speculative sensibility and verité documentary style, Children of the Singularity encourages young people to question the forces that shape pervasive digital technologies, and imagine alternative futures. Through intergenerational dialogues and reflective interviews, each episode challenges parents and youth to work through the dissonance between ideals, realities, and blind spots. By linking technological futures with personal histories, Children of the Singularity opens a larger conversation about interdependence in an era of atomization.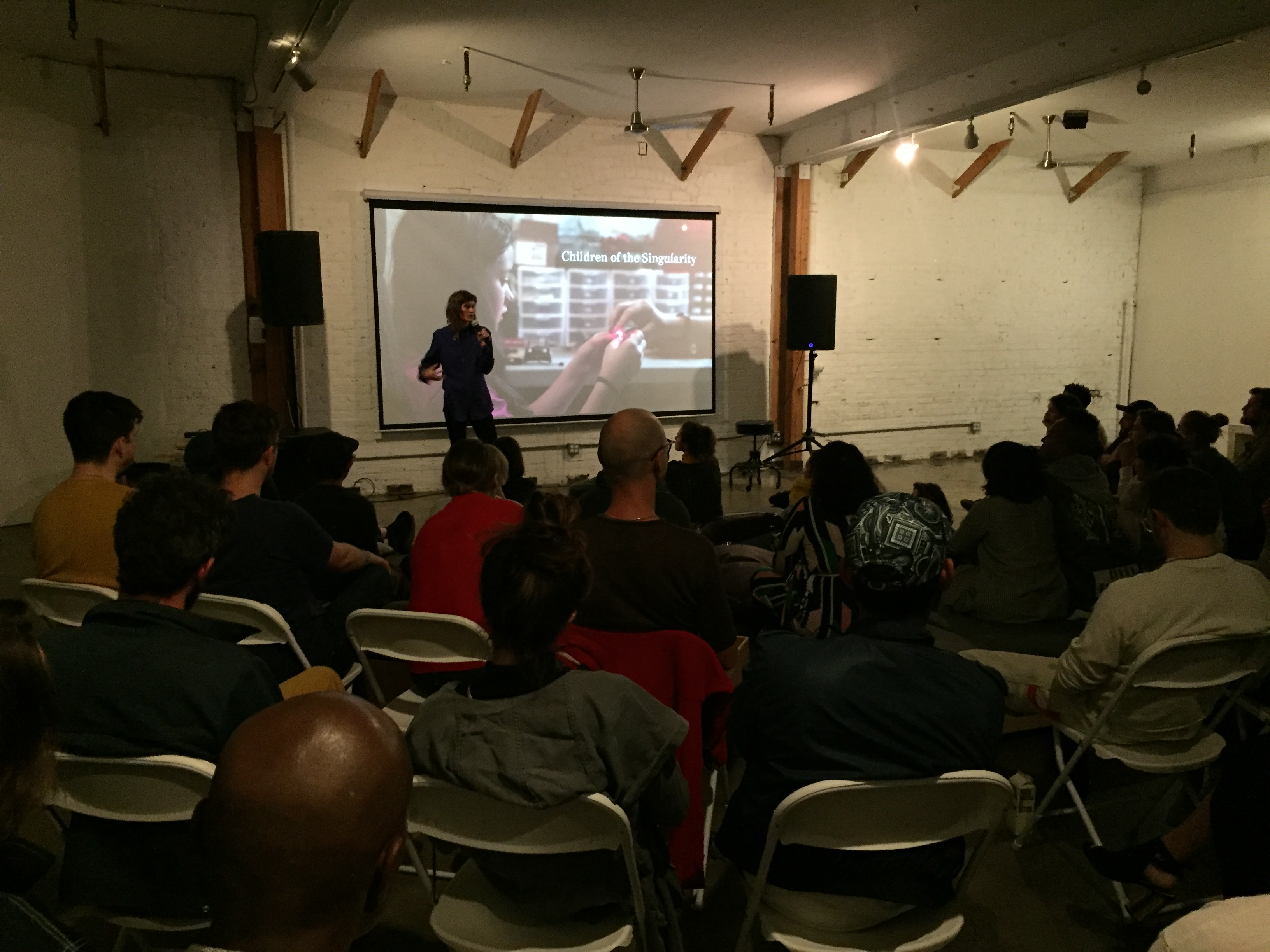 Screening at NAVEL, Los Angeles
SCREENINGS



Not My Utopia

curated by Megan Daalder and Zeesy Powers, Pleasure Dome, Toronto, Canada



NAVEL

, Los Angeles, CA, USA



Be a Better Being

, Galerie der Schader-Stiftung, Darmastadt, Germany



In The Flesh

curated by Courtney Malick, Diet Gallery, Miami, Fl, USA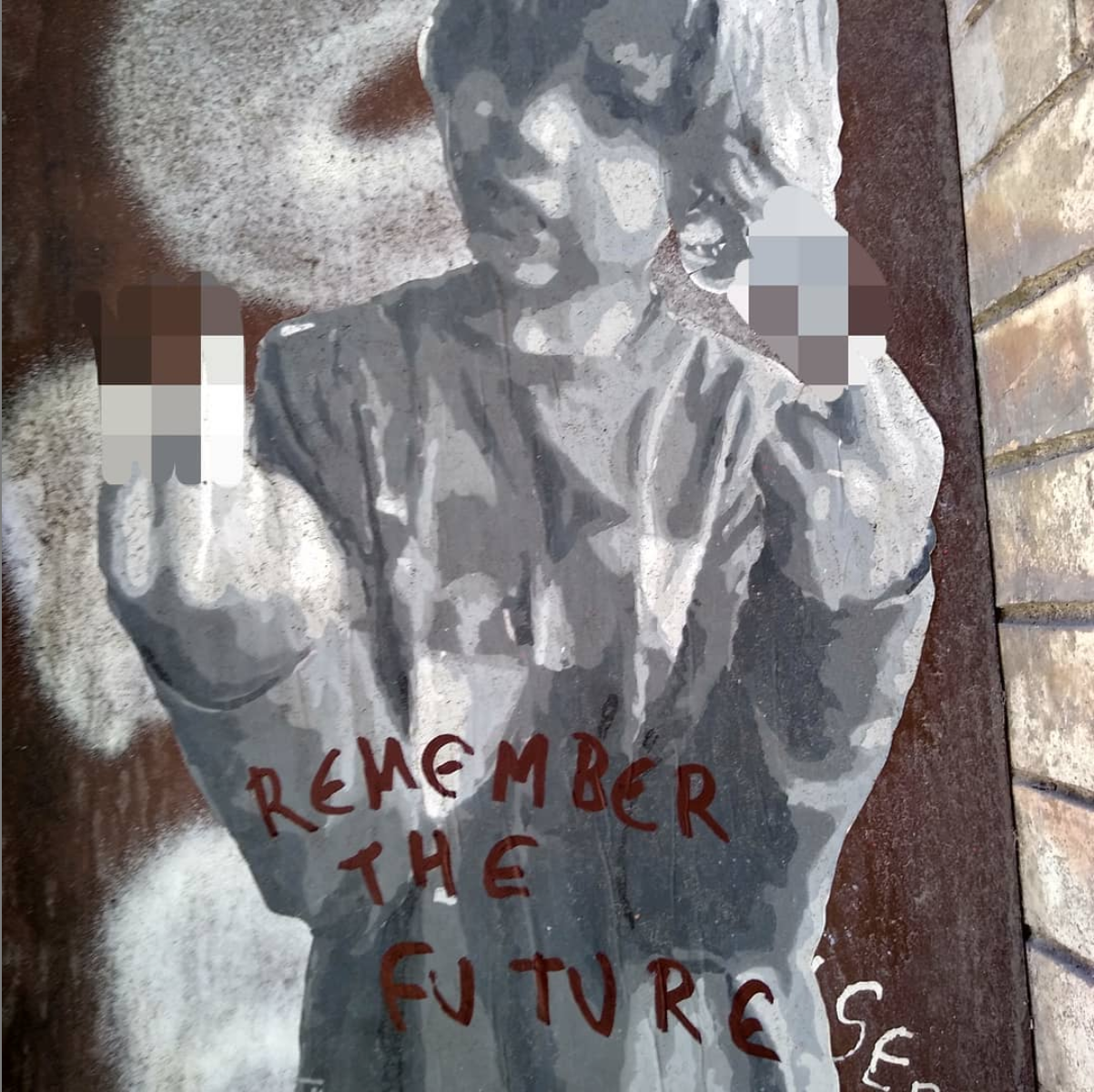 Installed as part of "In the Flesh II," Curated by Courtney Malick
REVOLUTION ETERNAL

NINOTCHHKA RECONSIDERS
#revisionist cinema
I re-edited the 1939 Hollywood classic Ninochka in an act of reverse propaganda. The film stars Greta Garbo as a communist envoy who falls in love with an American in Paris and abandons her politics. I decided to reverse the story to preserve her revolutionary spirit.


SCREENINGS

SALON: Biopsy,

Women's Center for Creative Work, LA, CA
The Mirrorbox is an ongoing investigation into shared identity. The device provides an intimate space for two people at a time. After putting their heads into a futuristic helmet, the participants stand face to face and observe their features blending together in real time. When used repeatedly or for long durations, this illusion of sharing a face can produce an embodied feeling of Empathy.

This installation prompted a scientific study in collaboration with graduate students at USC's Center for Brain and Creativity Institute.

PRESS
AWARDS
Top Prize at WRO Media Arts Biennial

People's Choice Poster Award at the Entertainment Software and Cognitive Neurotherapeutics Society

ARC Completion Grant
SELECTED EXHIBITION HISTORY

2019 After Dark at The Exploratorium, San Fransisco, CA

2018 "Hyperobjects," Curated by Laura Copelin and Timothy Morton, Ballroom Marfa, Marfa, TX

2017 MOXI, The Wolf Museum of Exploration + Innovation, Santa Barbara, CA

2017 "NADA NYC," Skylight Clarkson North, NY, NY

2015 "Bouillants No. 7: Gender," Bouillants Art Center, Vern-Sur-Seiche, France

2011 WRO 14th Media Art Biennale, National Museum, Wroclaw, Poland

2011 "Sans Vous, Rien Ne Se Fera," Mains D'Ouevres, Saint-Ouen, France